CONTROLS FOR HIGH PERFORMANCE HVAC EQUIPMENT
There was a time that HVAC units operated without an onboard digital controller. However, with new high-performance standards, that time has come and gone. Digital controls are more reliable, more accurate, and with the right software, enhance the performance and efficiency of these critical building assets. Robust, fine-tuned controls are especially important for HVAC units designed to bring in high amounts of outdoor air. Introducing, treating, and distributing ventilation air means that the controller needs to be programmed to anticipate and respond to widely varying conditions. From a cold winter day at 0 °F with little moisture, to a hot, humid summer day at 90 °F and an 82 °F dewpoint; control sequences must be capable of responding to any condition by activating the appropriate operating mode.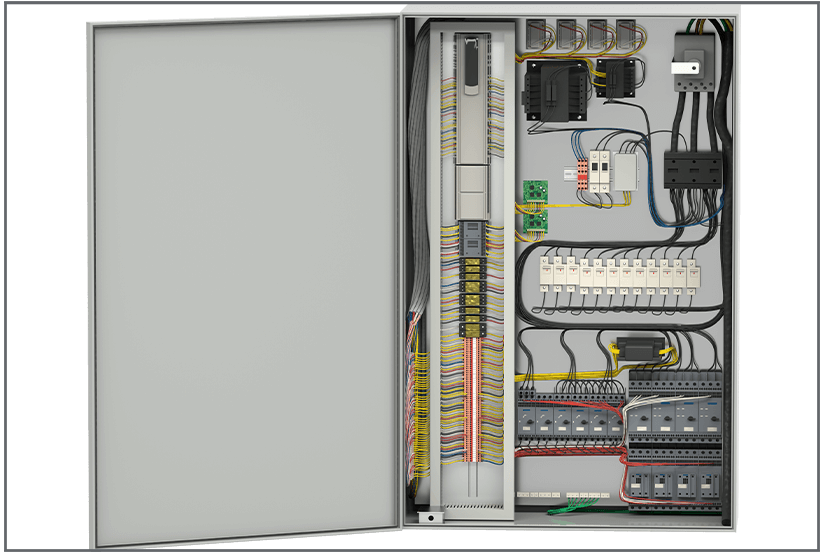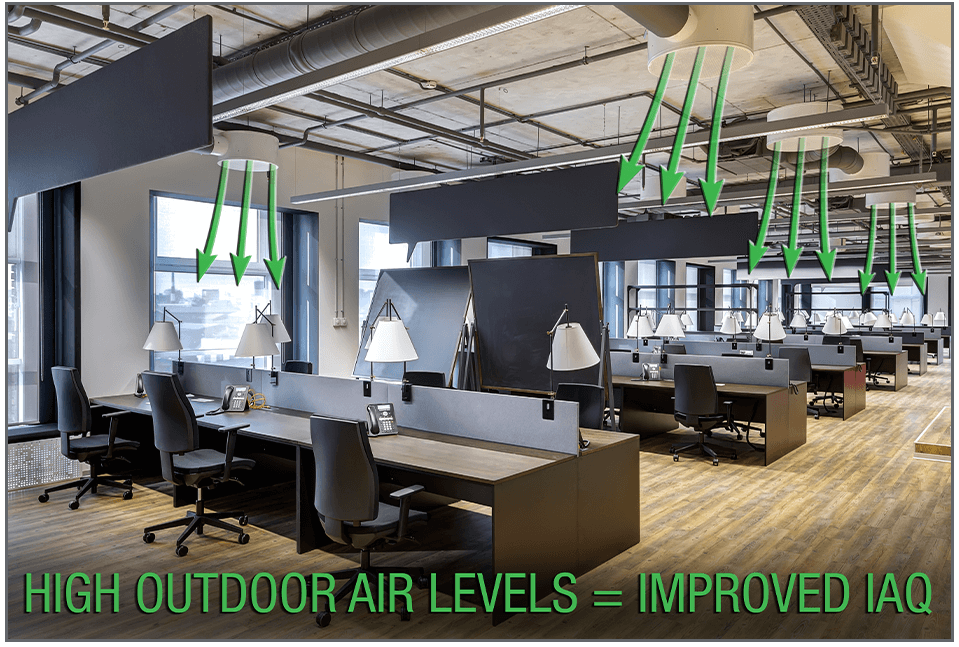 DEHUMIDIFICATION KEY FOR HIGH OUTDOOR AIR UNITS
There are many control platforms with abundant input/output points and programmed operating sequences. However, there is wide variation in the quality and support associated with the control sequences embedded in these controllers. Pre-programmed sequences that have been tested and proven offer the most reliable equipment operation. Specifically, the availability of a flexible, fine-tuned dehumidification sequence is critical to creating and maintaining proper space conditions. HVAC equipment is often controlled to maintain only the desired space temperature, which when coupled with high humidity levels, does not create a comfortable environment. Instead, look for a dehumidification sequence that can consistently deliver cool, dry air to the space to maintain both space temperature and relative humidity set points.

Several criteria can trigger dehumidification mode. Determining the correct trigger depends on the application and can be the difference between maintaining consistent space conditions (proactive) versus playing catch up to attain the desired space conditions (reactive).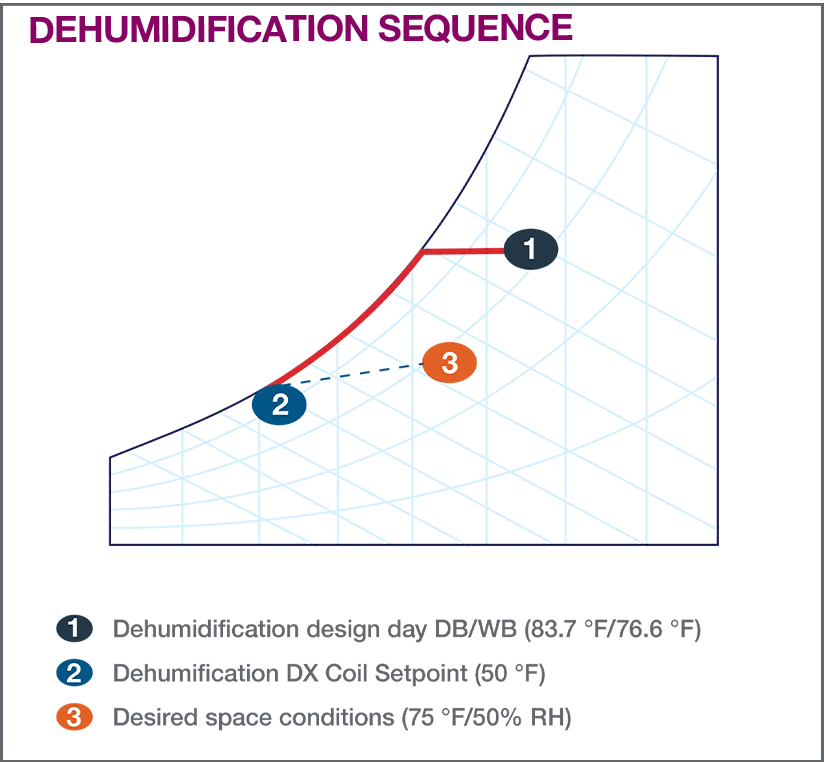 POTENTIAL DEHUMIDIFICATION MODE TRIGGERS
UNIT CONTROLS IMPACT ENERGY EFFICIENCY
Well maintained equipment, operating within design parameters in a tightly managed building, is the best path to lower energy costs. However, there are several control sequences that can aid in improving building efficiency, especially in buildings that have varying occupancy loads.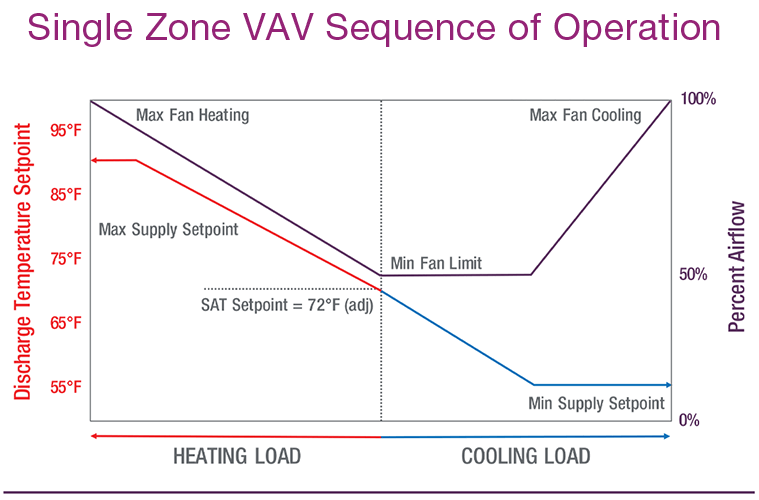 Single Zone VAV is a control strategy used in air handling equipment that serves a single HVAC zone or space. This sequence keeps the unit supply fan operating at the lowest possible speed while varying the discharge air temperature to meet desired space conditions. Energy savings come from reduced fan, cooling, and heating energy consumption at part load conditions.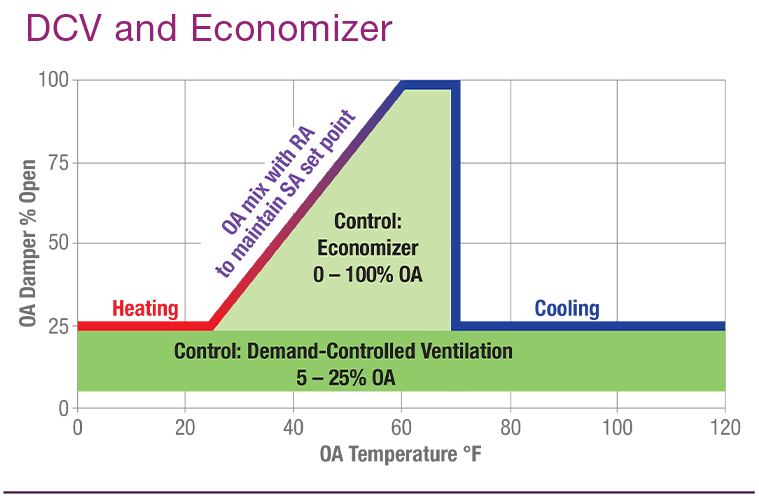 Demand Control Ventilation is a control strategy that reduces outdoor airflow below the design ventilation rate when there are few or no occupants in a particular space. Occupancy is determined by using a carbon dioxide sensor located in the space or a return air duct.
ADVANCED USER INTERFACE MAKES CONTROLLERS EASY TO USE
Even with reliable, stand-alone control sequences, building operators still need a window into how the equipment is performing for both daily operations and troubleshooting. A menu-based, handheld keypad is frequently used to access data in the controller, although navigating through these menus can be difficult and time-consuming.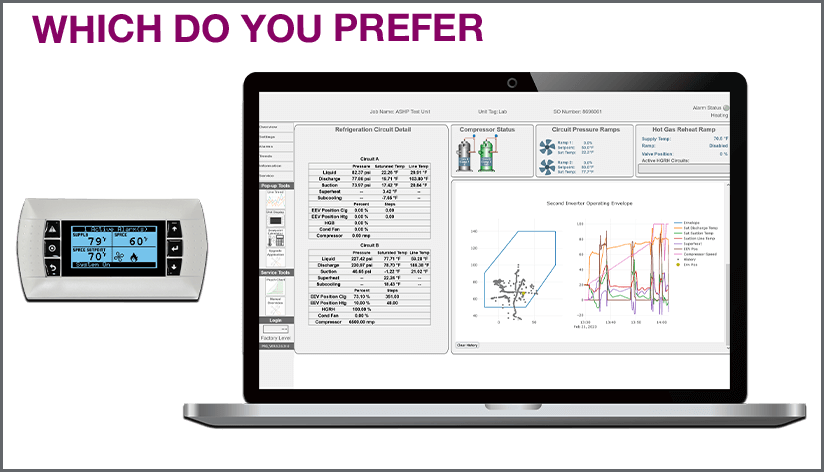 An alternative that greatly enhances usability is an embedded web page. Some HVAC equipment manufacturers now include a pre-programmed, unit-specific web page in the unit controller that can make evaluating setpoints, temperatures, alarms, trends, and detailed diagnostic data quick and easy. Previously this kind of comprehensive information was only available to technicians, at the HVAC unit, using gauges. A web user interface is often an invaluable tool, if only for its viewability advantages.
WANT TO LEARN MORE?