CUSTOM AIR HANDLING
CUSTOM DESIGNED TO FIT YOUR NEEDS
Meeting unique challenges with cost effective solutions has made Innovent an industry leader in the design of fully custom air handling systems. Our engineers and sales representatives work closely with you to evaluate your specific heating, cooling, ventilation and dehumidification requirements and then design a customized, energy efficient, and dependable system that fits the space and performance needs of each building.
With premium construction designed to handle high amounts of outdoor air and unique options such as DX refrigeration, fully welded wash-down floors and factory controls, Innovent products are your best choice.
Offering DX cooling in a custom unit requires a thorough understanding of refrigeration design as well as a wide array of cooling components. Coils sized to handle significant outdoor air humidity loads, oil management and a variety of compressor options to meet the performance and sound requirements of different applications are just a few areas where Innovent excels.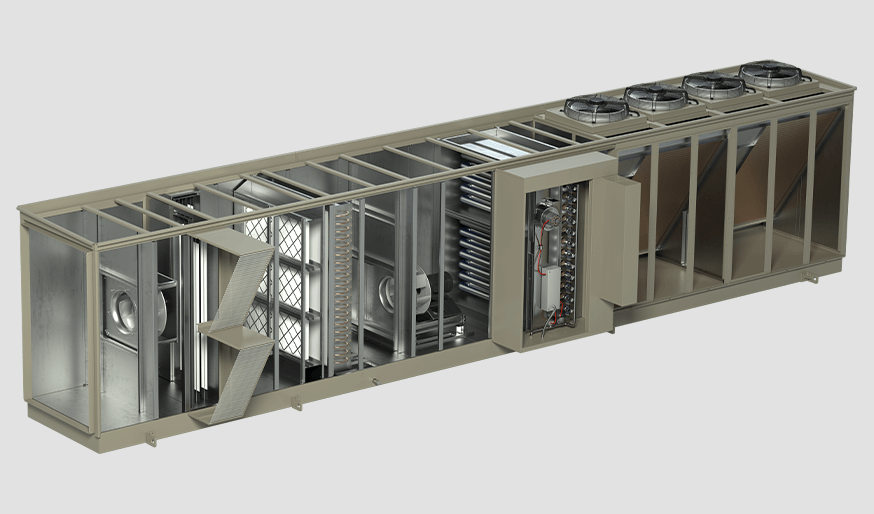 Key Features
Complete dimensional flexibility – height, width, depth, access
DX or Chilled Water refrigeration up to 400 tons
2" or 4" foam injected construction
Large capacity range – 250 to 250,000 cfm
Thermal break construction
Split systems
Fully welded, wash down floors
WANT TO LEARN MORE?