POOL DEHUMIDIFICATION
HIGH LEVELS OF OUTDOOR AIR DELIVER HEALTHIER, MORE COMFORTABLE POOL ENVIRONMENTS
Innovent specializes in dehumidifying indoor pool and waterpark spaces the natural way—using large amounts of outdoor air. Not only does this approach deliver swimmer and spectator comfort, it also improves air quality and minimizes corrosion by removing greater amounts of chloramines from the space. The use of outdoor air as the primary form of dehumidification also dramatically reduces the annual hours where mechanical dehumidification is required, lowering the operating costs of the facility.
Natural dehumidification is done efficiently using an all-aluminum, air-to-air, sensible heat exchanger. During most of the operating year, energy is transferred from the exhaust air to the outdoor air to reduce the cooling and dehumidification requirements of the space. All pool units are built for years of service in a corrosive environment with aluminum components, aluminum injected foam panels, and coated heating coils.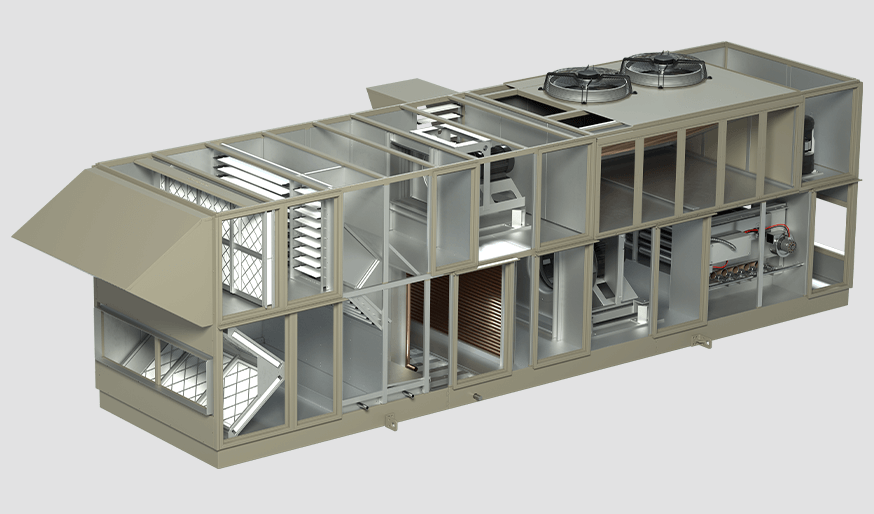 Key Features
Use of outside air vs. re-circulated air

Improves IAQ
Reduces operating costs
Preserves building infrastructure

Aluminum construction – extends equipment life
Coated coils – corrosion resistant
Special operating modes
Dimensional flexibility – to fit in your space
WANT TO LEARN MORE?